Handcrafted Honey
Every bottle of Firebee Honey is individually handcrafted using farm-fresh raw honey from midwestern bees infused with natural ingredients, creating a unique blend of flavors sure to elevate any dish. Each bottle is backed by our satisfaction guarantee and brag-worthy customer service.
DRIZZLE
BAKE
INDULGE
Not sure what to put Firebee Honey on? Try some of our favorites!
Pizza • Chicken Strips • Fajitas • Tacos • Eggs • Salads • Salmon • Tilapia • Chicken Wings • French Fries • Salsa • Biscuits • Rolls • Hamburgers • Shrimp • Grilled Vegetables • BBQ • Cocktails
And so much more!
New to Firebee?
Welcome! Our Best Seller Set allows you to try out the products that made Firebee Honey a household name. Our delicious namesake honey, infused Beef Jerky, and spicy BBQ Sauce are sure to become staples in your home!
BUY NOW
CAUTION: This product is addictive!
Our Spicy Honey Beef Jerky has all the sweet heat you love in one travel-friendly snack. It's the perfect mid-afternoon bite for the office, the trail, or the couch!
BUY NOW
BBQ Sauce NOW SHIPPING!
Each bottle of BBQ Sauce is handcrafted with Firebee Spicy Honey and a unique blend of molasses, onion, tomato, and peppers to create an amazing combination of sweet and smokey heat flavor. Try this one-of-a-kind sauce on your favorite dishes to take any meal to the next level of flavor!
Buy Now!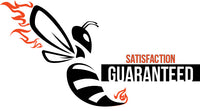 Buy with Confidence
We offer a 100% Purchase Satisfaction Guarantee - upon receipt of your order, if you don't love it as much as we do you can send it back for a full refund of your purchase. We've got the kind of awesome customer service you'll brag to your friends about. Our support team responds to emails in an average of 20 minutes and we even have a phone number where you can talk to a real person in Kansas! All orders receive an instant email order confirmation as soon as they're placed and every shipment includes a tracking number provided by email and even a delivery notification once it arrives!
Made with Raw Honey
Raw honey comes straight from the hive to your home with minimal filtering to retain all of the healthy properties found in honey. 
Most commercially processed honey is heated to 180 degrees and pressure filtered to 10-15 microns. This processing removes the healthy pollen, enzymes, minerals, and vitamins that naturally occurs in raw honey.
Firebee Spicy Honey is gently warmed to less than 120 degrees to minimize heat damage and is gravity strained to 400 microns to preserve the many health benefits of natural, raw honey.
BUY NOW
Official Condiment of Steelmade
Instantly convert your stove or grill into the ultimate flat top griddle and eliminate multiple pans and skillets. Skip the dishes and prepare breakfast, lunch, and dinner on one versatile cooking surface.
LEARN MORE